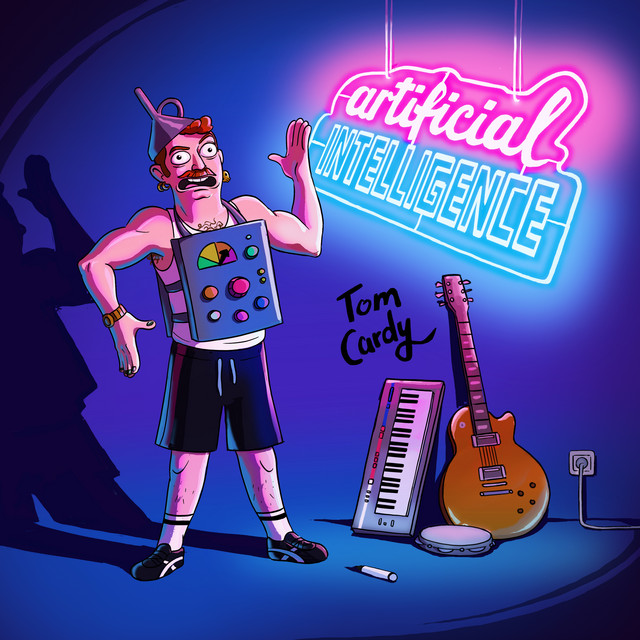 The Song Sequels mastermind has performed extremely well in triple j's Hottest 100 of 2021. But besides being hilarious, what makes him so popular?
Tom Cardy and his… artsy moustache made a huge splash into the Hottest 100 with two songs at the pointy end of the 2021 countdown.
Y'all voted 'Mixed Messages' in at #17, and even higher, 'H.Y.C.Y.BH' (short for Have You Checked Your Butthole) at #11.
"My mum hates this song," a stoked Tom Cardy told triple j after 'H.Y.C.Y.BH' charted outside the Top 10. "She wouldn't be in the same room as me as that song played."
It's an impressive feat for any Australian act and put Cardy ahead of triple j faves like The Jungle Giants, Ball Park Music, Lorde, The Rubens, and Peking Duk. And historically, he's Hotter than Kanye West (who's best entry is his first: 'Gold Digger' at #13 in 2005).
"Haven't you heard? I'm a massive celebrity right now," he joked on air. "Song parodies on triple j has just boosted me into the stratosphere."
Unless you're an utter social media celibate, chances are you've come across Cardy's brand of musical comedy before. But if you somehow haven't, he's a Sydney-based music producer, composer, and funny human behind triple j Drive's ongoing Song Sequels segment.
Since November 2020, Tom's been entertaining us with his creative continuations of the narratives set up in hits from Hilltop Hoods, Tame Impala, Amy Shark, Billie Eilish, and many, many more. But he makes his Hottest 100 debut with two original tracks, lifted from last year's debut album Artificial Intelligence.
His success in the upper ranks of the countdown might come as a surprise… until you glance at the size of his social media following.
He's got nearly 15 million likes on TikTok (and counting), and has very healthy figures across Twitter, Instagram and Spotify. Several of his videos have raked in millions of views on YouTube, with his two Hottest 100 entries earning over 13 million combined views between them.
The strength of Tom Cardy's comedy is his knack for heightening insightful social observations with gleeful absurdism. 'Mixed Messages' is the perfect example, beginning with the relatable feeling of awkward attempts to text your crush but spiralling into a silly ode to brutalising dad genitalia.
It's a recurring trick of his songs, grounding you with some too-real situation or trope then driving the whole thing off a cliff.
Whether he's lampooning big breakfasts, passwords, dating red flags, Santa Claus – you name it – Tom's got a gift for nailing topics that feel super-relevant and fleshing them into hilarious one, maybe two-min scenarios.
It's clever without ever being highbrow, and most importantly, Tom knows the power of just landing a big, stupid lol when needed.
C'mon, 'Have you checked your butthole?' is its own kind of bone-simple genius. And his 14-second rework of 80s hit-makers Hall & Oates is some of his finest, most succinct work to date.
It's this particular skill that's made his output work so well in the current TikTok-ification of media where short, sharp, and snappy rules the algorithm. He can land laughs in a bite-sized 30 to 60 seconds, offering up hysterical interludes that break up our endless scrolling.
His videos also have the similar look and format that's so popular on platforms like TikTok and Instagram, slipping in seamlessly into feeds with his direct-to-camera performances and home studio setting. He's even subtly lampooning it with his top-tier editing and occasional stares into the lens that are a little too intense.
Perhaps more significantly, Cardy's growing profile was perfectly timed with people in desperate need of a chuckle and a pick-me-up during dark pandemic times. Dive into the comments on any of his posts and you'll find plenty of folks thanking Tom for delivering some much-needed laughs.
"This last year's been hard for a lot of people, and hard for me, but brought as much joy to me as as I feel like some people have enjoyed my music," he told triple j during the Hottest 100 countdown. "So, thanks so much for everyone who voted for me… it's really lifted me up to a place I didn't think I could get to!"
His COVID comedy highlights include video conference ineptitude ('It's 2021, how the f*ck have you not learnt how to use Zoom yet, Brett?'), the difficulty of human interaction after coming out of quarantine, and most recently, savaging Novak Djokovic's recent Australian visa drama surrounding his alleged anti-vax stance.
No matter how silly his content gets, Tom always presents as a musician first. In nearly every clip, he's in his studio and handling multiple instruments. It seems obvious, but he's got a very different vibe from most online comedians – and his editing and production are always on point.
It's probably not a shock to learn Cardy has a background playing in bands, but he also teaches music improv and composed for podcasts (like Dragon Friends), and TV shows like SBS' The Feed and Amazon's The Moth Effect.
There's no doubting his musical chops, and like musical comedy masters Bo Burnham and Flight of the Conchords, he's got a gift for mimicry.
The fact that he's been able to regularly pump out pitch-perfect recreations for Song Sequels (and often with just 24 hours to turn it around) should be proof enough of his talent. But definitely check out his retooling of the classic themes to Ghostbusters and Beverly Hills Cop for further evidence.
His own tunes genuinely slap, and specialise in a strain of 1980s synthpop and electrofunk that Client Liaison (or even the OG Prince) would be proud to call their own.
His version of Eurythmics' 'Sweet Dreams' in the style of Daft Punk is the kind of mash-up that saturates TikTok but it's a cut above your average creator, who'd probably fake it rather than build and perform it from scratch. It's more impressive than it is funny.
There's a long history of funny songs putting in seriously strong showings in the Hottest 100, starting back in 1993 with Denis Leary topping the countdown, and going all the way up to the (semi-)present day with Big Shaq's showing in the 2017 Hottest 100 ('Man's Not Hot', #51).
A look back at Hottest 100 novelty songs (and what they say about meme culture)
That should come as no surprise – if anything, it's a little surprising that we don't see more comedy in the Hottest 100, given triple j listeners' legendary love of having a chortle. Still, two songs in the Top 20 is impressive. So, what is it that's given Tom Cardy the competitive edge?